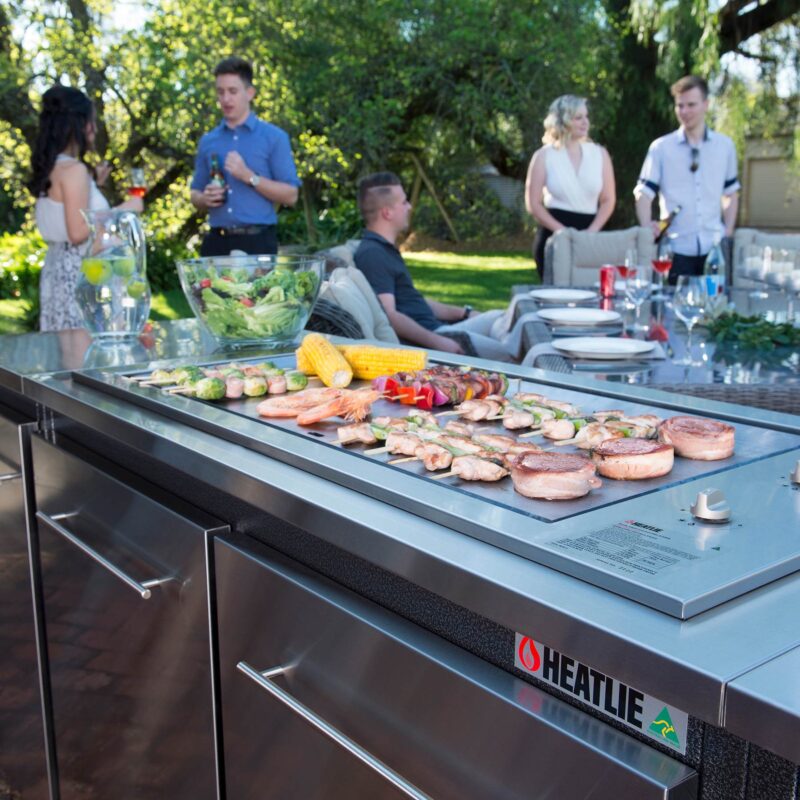 Island Gourmet Elite
Building your dream outdoor living space? Add the Island Gourmet Elite to your plans! Drop it in to your bench top with minimal fuss and start entertaining your friends and family with ease.
The Island Gourmet Elite is Australian made and designed to be the finishing touch to your outdoor living space. The IGE sits level with minimal obtrusion and features innovative technology that allows for the barbecue to be built into any benchtop, including combustible materials (a first of its kind!) This leads to a stylish look that is cohesive with any design aesthetic whilst providing you with a high quality cooking experience. 
We offer the choice of two hotplates, providing you with the most suitable cooking surface for your needs. The mild steel option is highly reactive to changes in temperature with greater control over your cooking, whilst the stainless steel hot plate delivers further rust resistance in coastal areas. 
Our barbecues are made to order in Australia with a 24 hour turn around. A 316 stainless steel finish is available for rust prone areas upon request, please call for more information.
Heatlie BBQs
Heatlie barbecues are an Australian owned and made Barbecue manufacturer. We believe in producing the toughest barbecues in Australia, because we want to give Australians something they can rely on. Our ranges include Stainless Steel Flat Plate Barbecues, Roasters, Hot Boxes and even a Fire Pit – all built to last a life time, maybe even two.
Quality, Innovation, Family
As a family owned Barbecue business, we believe in producing high quality products that we are proud of. Through our passion and belief, we have grown our business through the reputatiation of our tough barbecues. For over 40 years, Heatlie Barbecues has been making barbecues in Australia, and we don't plan on stopping!
We want to take this opportunity to thank you for joining us on this amazing journey. It is with gratitude that we have watched our small Australian business grow and it is all because of you, our loyal customers, together with our suppliers and employees that we continue to go from strength to strength.